あたしの一番大切なONEは嵐です。

"I don't smile cause I'm happy, I smile because something good might happen if I do."

Aries are generally very innocent creatures. There are two sides to their inner world: a world full of hate and a world full of love.They can understand other's problems quite easily.

悲しいほどきれいだね~


♥ Just Feel the JinPi Love ♥



This is me. When I hate you because you ate my favourite choco, and when I love you because you left me two lines. Am I scary~?



I'm high. A lot of times. High on rainbows~~~~

♥ Beautiful Monster ♥



♥ My Colour 赤 ♥


Okaeri, Jin. Tadaima.



♥ My Fallen Black Angel ♥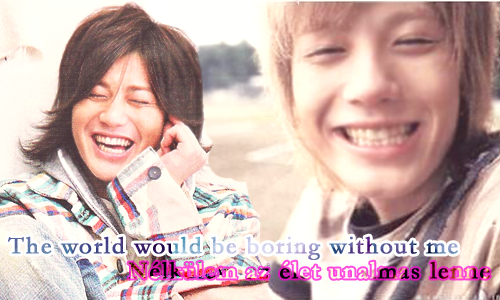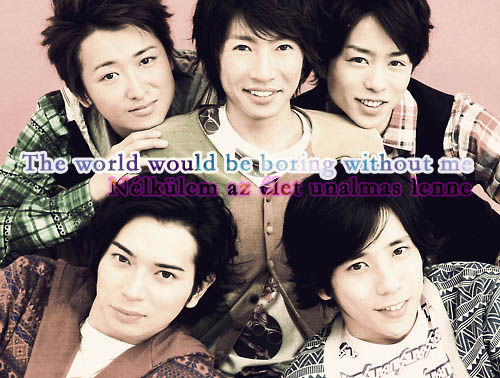 I'm a proud uke!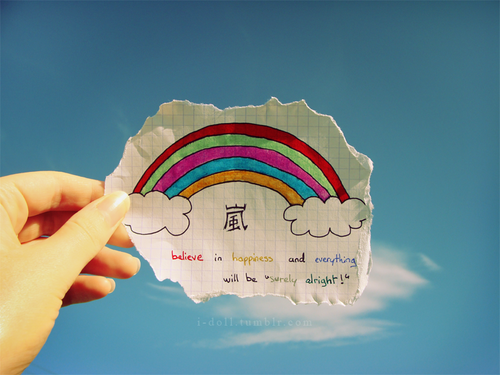 全部壊したいって思う時期もあった。けど、俺が必要だって言ってくれる四人がいるから、頑張って来れたって思う。




Tiniest man, biggest dreams ♥



いつも ありがとう ♥


Time concert, best concert.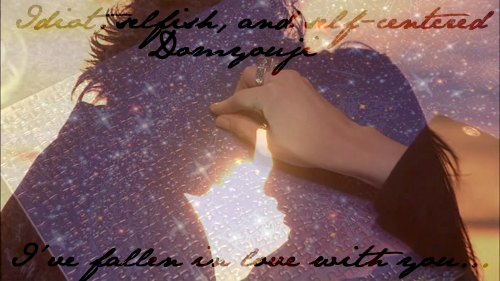 An old man and a little girl who can steal my heart anytime. ♥__♥



There are days when you're just sad. Deeply.



The perfect guy. Oh, God, yes. Mimura Takuya. ♥



Perfect dorama with a perfect pair ♥



Goodbye, both of you. ♥






Az első dolog, amit megtanultam, miután sebész lettem: az életmentés világában nincsenek csodák. De a második dolog rögtön ezután az volt, hogy nincs olyan orvos, aki mikor szemben áll a betegével ne kívánná a csodát.


♥ Aizawa-sensei ♥

"Merj álmodni, mert az álmok álmodói meglátják a holnapot. Merj kívánni, mert a kívánság a remény forrása, s a remény éltet bennünket. Merj nyúlni olyan dolgokért, amit senki más nem lát. Ne félj olyat látni, amit senki más nem lát. Higgy a szívedben és saját jóságodban, mert ha így teszel, mások is ezekben fognak hinni. Higgy a csodában, mert teli van vele az élet.
De ami a legfontosabb, hogy higgy önmagadban, mert odabenn a lelkedben rejtőzik
a Csoda, a Remény, a Szeretet és a Holnap Álmai."
Szeretnék

Chiisai hana ya ooki na hana
Hitotsu toshite onaji mono wa nai kara
No.1 ni naranakutemo ii
Moto moto tokubetsu na Only One

Az írás nem okozója a gyötrelemnek, hanem a gyötrelemből születik.
Vagy a legnagyobb boldogságból ♥

♥♥♥♥♥♥♥
The person who loves you more will fight with you daily without any reason, but whenever you are sad, she will fight with the world to end your sadness.
Akanishi Jin
If you feel like crying, then cry, I will make you smile again.
Everytime, Jin.

---
Mood:
peaceful